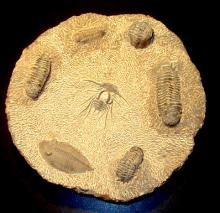 The Fossil Study Satellite Group organizes meetings around the interests of the members. Programs are scheduled, fossils identified, paleontological discussions held, and collecting techniques discussed.
Members are encouraged to lead field trips to prospective collecting localities. In addition, each member is encouraged to bring, to the meetings, a fossil for "Show and Tell".
Meetings are scheduled for the 1'st Tuesday of the month, 7:00 PM at the Pikes Peak United Methodist Church, 2927 W. Pikes Peak Ave.  Pebble Pups, with appropriate adult supervision, are invited to attend.  Contact Joyce Price at (719) 593-8245 for further information.
There will be an April and May meeting, adjourning for the summer and resuming in September.